Various Types of Trays to Decorate Your House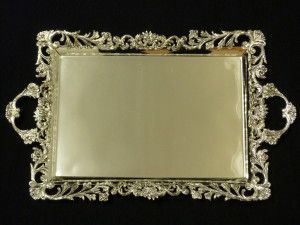 House is complete only when the interior of the house is designed well. A good interior decoration makes the house look more beautiful and perfect. You may try many things to decorate your house like furniture and wall color, but there are some simple things that might improve the look of your house. These simple things are decorative trays.
Here are some of the decorative trays found in the market:
Cambridge tray:
These trays are layered and oversized. These trays enhance the look of the kitchen. The look of these trays will give you a masculine feel. The materials used to make this tray are stainless steel for a highly polished look.
Largo tray:
These trays offer you a chic look. Serve your guests on these trays, as they look very classy and stylish. The tray is colorful and has snake print on the water repellent, non-slippery surface. The tray offers two metal handles, one is gold hued and the other is silver hued handles with champagne.
Silver tray:
Serving tray made of silver is a beautiful piece to decorate your living room. The tray has a brilliant floral border and an elegant handle which enhances the look of the tray. The base of the tray has a silver finish and four feet to support the tray.
Bedford tray:
The Bedford tray is meant for the most selective hosts. The tray is made with thick and heavy metal to ensure the durability and quality of the product. The look of the tray is very fashionable and shiny because of the nickel plate. And the design is completed with the two large handles.
Circa tray:
These trays are very stylish and take place in the decoration of your living room. This large tray is made on an aluminum frame along with the beautiful five-inch tall rim of interlocking circles. All these circles are thick, plated with nickel and polished so that it provides a brilliant shine. The base of the tray is made up of a bright mirror like surface to make it more attractive. This is solely for decorating your house.
Deauville tray:
These types of trays are used for representing style and beauty. These trays are mostly used in a special event. The tray is made up of "gold plated nickel" and heavy handles that look like door knockers. These types of trays are solely made for decorating your house. One can decorate this gold plated tray with beautiful candles.
This is a list that presents to you the most elegant serving trays out in the market. These trays can be used for decorating purposes. Serving tray manufactured from silver is one of the best among these and enhances the look of your living room.